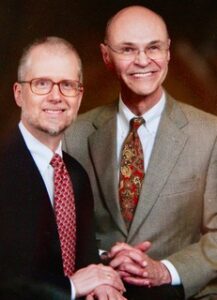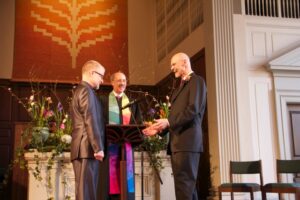 The Ministries and Faith Development staff offer our condolences to the family and colleagues of the Rev. Robert "Bob" Lloyd Schaibly, who died on November 11, 2019, at the age of 77.
Bob was born on August 16, 1942 in Lansing, MI to Robert Lloyd Schaibly Sr. and Dorothy Strieter Donley. He graduated from Michigan State University in 1965 with a Bachelor of Arts in Humanities, following which he worked as a Church Administrator at the First Unitarian Church of San Francisco, CA. In 1971, Bob earned his Master of Divinity from the Harvard Divinity School, MA.
Rev. Schaibly was welcomed into preliminary fellowship in 1971 and ordained on October 10, 1971, by the Beverly Unitarian Church of Chicago, IL, where he carried out his first ministry (1971-1979). From 1979 to 1982, he ministered at the Unitarian Universalist Church of Concord, NH. In 1982, Rev. Schaibly accepted a call from the First Unitarian Church of Houston, TX and served as a senior minister for two decades (1982-2002). Then in 2002, he retired from active ministry; upon his retirement the Houston congregation honored him as their Minister Emeritus. Thereafter, Rev. Schaibly served the UU Community Church of Washington County, OR (2005-2006) as an interim minister.
Outside of his ministry, Rev. Schaibly served on the Board of the Southwest District of UUA, Houston Area UU Ministers, Unitarian Universalist Service Committee (UUSC), UU Lesbian and Gay Concerns, Lake Geneva Summer Assembly Planning Council (1970s), the Emerson Centennial Celebration Committee and UU Historical Society. He was a member of the UUA Affirmative Action Task Force; President for the Southwest District UU Ministers Association; and a founder and chair of the New England Students for the UU Ministry. Furthermore, Rev. Schaibly was Theme Speaker at the Star Island, Life on a Star Family Week in 1983. Many of his sermons were published in UU World and Church of Larger Fellowship newsletter. Some of his published writings include: "Is There a Crisis in the Ministry?" Journal of the Liberal Ministry, vol. 12, no. 3; and "The Power of the Patient, "DAY magazine vol.3, no 2.
Beyond his parish ministry, Bob served as member of several community organizations including Child and Family Services of NH, the Emergency Aid Coalition (a food pantry program); Amnesty International, People for the American Way, and SEARCH (a day center for the homeless). He functioned as Board Member for Houston ALCU, AIDS Foundation of Houston, Lake Geneva Summer Assembly Planning Committee, and "Dialysis and You" magazine. Likewise, Bob was President for NH ACLU (1980-1982); community representative for the University of Houston Animal Research Committee; and Theme Speaker for the American Cancer Society of Texas. He chaired the Mental Health Council and an ecumenical Ministerial Fellowship. Bob studied Buddhism with the Zen leader Thich Nhat Hanh and was named a Dharma Teacher in the Order of Interbeing. Bob was co-founder of the Houston Zen Community.
Bob is survived by his husband, Steven R. Storla; his sister, Rebecca Davidson and her husband, John; his brothers, Ben Schaibly, Bill Schaibly and his wife, Cathy; and many nieces and nephews.
In lieu of flowers, donations may be made to the Endowment Funds of the First UU Church of Houston, 5200 Fannin St. Houston, TX 77004; or the First Unitarian Church of Portland, 1034 SW 13th Ave. Portland, OR 97205. Memorial services have been held at both congregations.